Stock List
---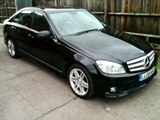 *JUST ARRIVED* MERCEDES-BENZ C CLASS C200 CDI SPORT 2009 09 Reg, 4 Doors, Automatic, Saloon, Diesel, 1 owner, full MB service history ls@96k. facelift car. Above standard options; obsidian black met with real full black leather and ali dash inserts. Front/rear parking sensors, phone prep, UMI Univeral Media Interface - colour european SAT NAV, bluetooth media streaming, ipod control, usb and aux inputs and bluetooth phone ready. Standard features include; sport pack, AMG wheels and over mats, auto fold mirrors, cruise ctrl, multi function steering wheel, auto lights/wipers, auto dip mirror, dual zone climate plus usual MB refinements! £13,000 Deutsche Marque Cars Tel: 07866 548643
---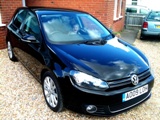 *JUST ARRIVED* VOLKSWAGEN GOLF 2.0 TDI 140 GT 2009 09 Reg, 77,500 miles, MK6 (lastest shape), 5 Doors, Manual, Hatchback, Diesel, Black, MOT-04-2013, 1 Owner Full Service History, PAS, AC, Half Suede Sport Seats, Radio/CD, Cruise control, 4x Electric windows, Electric Heated door mirrors, IPOD JACK, Multi function steering wheel, Remote locking, 2 Keys, Automatic headlights and wipers, Headlight washers, Front fog lights, Front armrest, Trip computer, Sports seats, Alloy wheels, ABS, Traction control, Multi Airbags, 3x3 point rear seat belts, Rear headrests, Isofix child seat anchor points. Insurance Group:12 £11,000 SOLD, SOLD, SOLD Deutsche Marque Cars Tel: 07866 548643
---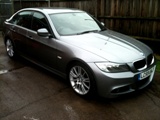 *JUST ARRIVED* BMW 3 SERIES 320D M SPORT 2009 59 Reg, 50,000 miles, 4 Doors, Manual, Saloon, Diesel, SPACE GREY WITH BLUE SHADOW HALF CLOTH HALF ALCANTARA. 1 Owner, Full Service History, Power assisted steering, Air conditioning, Climate Control, Cruise control, Radio/CD, IPOD JACK, Multi function steering wheel, Bluetooth phone system, Electric windows, Electric mirrors, Power folding mirrors, Remote locking, Sports seats, Alloy wheels, Front armrest, Trip computer, ABS, Traction control, Multi Airbags, 3x3 point rear seat belts, Isofix child seat anchor points, Rear headrests. Insurance Group:15 £15,000 SOLD, SOLD, SOLD Deutsche Marque Cars Tel: 07866 548643
---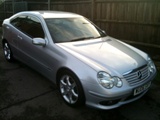 *JUST ARRIVED* MERCEDES-BENZ C CLASS C200 CDI SPORT 2006 06 Reg, 88,000 miles, Metallic Silver, 3 Doors, Manual, Coupe, Diesel, MOT-04-2012, 2 Owners. CDI SPORT COUPE IN EXCELLENT CONDITION ALL ROUND. FULL AND UP TO DATE SERVICE HISTORY. BRILLIANT VALUE AND THIS ONE IS TAXED UNTIL JUNE! Bluetooth phone system, Automatic headlights and wipers, Air conditioning, Radio/CD, Electric windows, Electric mirrors, Remote locking, 2 Keys, Trip computer, Multi function steering wheel, Sports seats, Front fog lights, Alloy wheels, ABS, Multi Airbags, 3x3 point rear seat belts, Isofix child seat anchor points, Rear headrests. Insurance Group:13 £6,000 SOLD, SOLD, SOLD Deutsche Marque Cars Tel: 07866 548643
---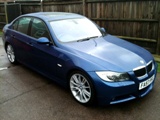 *JUST ARRIVED* BMW 3 SERIES 335I M SPORT 2007 57 Reg, 23,000 miles, 4 Doors, Manual, Saloon, Petrol, MOT-09-2012. STUNNING LE MANS BLUE WITH FULL BLACK HEATED LEATHER AND UNMARKED 18 INCH ALLOYS. LOW MILEAGE AT 23K AND HAS JUST BEEN SERVICED BY BMW. OPTIONS INCLUDE XENONS HEADLIGHTS WITH WASHERS, FOLDING MIRRORS, REVERSE PARK SENSORS AND GLASS ELECTRIC ROOF. TWIN TURBO 306BHP/295LB/FT 0-62=5.6 Seconds, limited to 155mph. Standard car with huge tuning potential. Automatic headlights and wipers, Climate Control, Radio/CD, media connections, 4x Electric windows, Electric heated mirrors, Remote locking, 2 Keys, Cruise control £15,000 SOLD, SOLD, SOLD Deutsche Marque Cars Tel: 07866 548643
---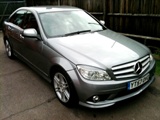 *JUST ARRIVED* MERCEDES-BENZ C CLASS C220 CDI SPORT 2007 57 Reg, miles, 4 Doors, Automatic, Saloon, Diesel, Metallic Palladium Silver, MOT-09-2012, 1 OWNER FROM NEW WITH FULL AND UP TO DATE MERC HISTORY. Climate Control, Electric windows, Automatic headlights and wipers, Remote locking, 2 Keys, Folding heated/electric mirrors, Bluetooth phone system, Radio/CD Multichanger, Steering wheel stereo controls, IPOD JACK, Cruise control, Trip computer, Front armrest, Alloy wheels, ABS, Traction control, Multi Airbags, Rear headrests, 3x3 point rear seat belts, Isofix child seat anchor points, Front fog lights. Insurance Group:14 £13,000 SOLD - SOLD - SOLD Deutsche Marque Cars Tel: 07866 548643
---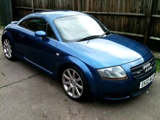 *JUST ARRIVED* AUDI TT 1.8 T QUATTRO 2DR [225], 2003 03 Reg, 65,000 miles, Mauritius Blue Pearl, 2 Doors, Manual, Coupe, Petrol, MOT-04-2012. FULL HISTORY, BOOK PACKS, INVOICES, 2 SETS OF KEYS, MATS, PREMIUM CONTINENTAL CONTACT SPORT TYRES ALL ROUND, GENUINE CAR IN GORGEOUS MAURITIUS BLUE PEARL WITH BLACK HALF LEATHER HALF ALCANTARA HEATED SEATS. Air con/Climate Control, Radio/CD, Electric windows, Electric mirrors, Remote locking, 2 Keys, Trip computer, 18" Alloy wheels, ABS, Multi Airbags, Isofix child seat anchor points £6,850 SOLD - SOLD -SOLD Deutsche Marque Cars Tel: 07866 548643
---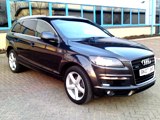 *JUST ARRIVED* AUDI Q7 3.0 TDI QUATTRO S LINE 5DR TIP AUTO 2007 07 Reg, 87,000 miles, 5 Doors, Metallic Lava Grey. MMI, SAT NAV, BLUETOOTH, POWERED TAILGATE, PRIVACY GLASS, AUDI PARK ASSIST SENSORS ALL ROUND, 20" S LINE WHEELS WITH NEW TYRES. IMMACULATE, BLACK HALF LEATHER HALF ALCANTARA INTERIOR WITH 7 SEATS WITH BRUSHED ALUMINIUM DASH INSERTS. FULL SERVICE HISTORY. Dual zone climate control, Electric heated folding door mirrors, 4x Electric windows, Remote locking with 2 keys, Cruise control, CD multi changer steering wheel controls, Auto lights, wipers etc etc etc. Insurance Group:16 £20,000 SOLD - SOLD - SOLD Deutsche Marque Cars Tel: 07866 548643
---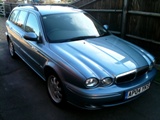 JAGUAR X-TYPE 2.0D CLASSIC 2004 04 Reg, 73,000 miles, 5 Doors, Manual, Estate, Diesel, Metallic Blue, MOT-08-2011. FULL SERVICE HISTORY JAG AND JAG SPECIALIST. 2 PRIVATELY OWNED LADY KEEPERS FROM NEW. A FANTASTIC CAR WHICH HAS JUST ARRIVED AS A PART EXCHANGE. FIRST TO SEE AND DRIVE WILL BUY! Air conditioning, Radio/CD, Park distance control, Electric windows, Folding door mirrors, Electric mirrors, Heated door mirrors, Electrically adjustable seats, Remote locking, 2 Keys, Alloy wheels, Foglights, ABS, Multi Airbags, 3x3 point rear seat belts, Rear headrests. Insurance Group:14 £5,000 SOLD - SOLD - SOLD Deutsche Marque Cars Tel: 07866 548643
---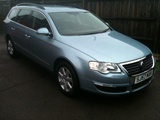 VOLKSWAGEN Passat 1.9 SE TDi, 2007 57 Reg, 106,000 miles, 5 Doors, Manual, Estate, Diesel, Metallic Blue, MOT-09-2011, 1 Owner FSH. EXCELLENT CONDITION, 1.9TDI PASSAT ESTATE SE MODEL. Air conditioning, Power assisted steering, Bluetooth Phone kit, Electric windows, Electric Heated door mirrors, Remote central locking, Radio/CD, Cruise control, Trip computer, Front armrest, Rear armrest, Lumbar support, Alloy wheels, ABS, Traction control, Multi Airbags, 3x3 point rear seat belts, Rear headrests, Isofix child seat anchor points. Insurance Group:7 £6,000 SOLD - SOLD - SOLD Deutsche Marque Cars Tel: 07866 548643
---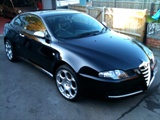 ALFA ROMEO GT 1.9 JTDm 16V BlackLine, 2007 07 Reg, 81,000 miles, 2 Doors, Manual, Coupe, Diesel, Black, 1 Owner, Insurance Group:15, A STUNNING GT BLACKLINE WITH FULL ALFA SERVICE HISTORY AND ONE PRIVATE LADY OWNER FROM NEW. ALL USUAL GT BLACKLINE OPTIONS, FULL BLACK LEATHER INTERIOR WITH RED STITCHING, BOSE HIFI, REAR PARKING SENSORS AND CRUISE CONTROL. CHEAPEST BLACKLINE GT IN THE COUNTRY. JUST HAD FULL SERVICE, NEW BRAKES AND CAMBELT REPLACED £9,000 SOLD - SOLD - SOLD Deutsche Marque Cars Tel: 07866 548643
---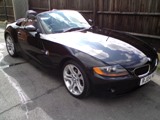 BMW Z4 2.5I SE, 2004 04 Reg, 90,000 miles, 2 Doors, Manual, Convertible, Petrol, Metallic Saphire Black, MOT-10-2010. Full Service History, Power assisted steering, Navigation system, Air conditioning, Climate Control, Electric windows, Electric mirrors, Remote locking, 2 Keys, Leather upholstery, Sports seats, Radio/CD Multichanger, Trip computer, Alloy wheels, Traction control, ABS, Multi Airbags. Insurance Group:18, EXCELLENT CONDITION, BLACK WITH FULL BLACK LEATHER 2.5 SE Z4. FULL SERVICE HISTORY. WITH FACTORY FIT TV STYLE SAT NAV SYSTEM, 18 INCH WHEELS GOOD TYRES £9,000 SOLD - SOLD - SOLD Deutsche Marque Cars Tel: 07866 548643
---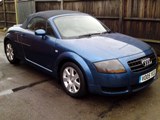 AUDI TT 1.8 T 150bhp, 2005 05 Reg, 85,000 miles, Metallic Mauritius Blue, MOT-01-2011. Full Service History, 2 Doors, Manual, Convertible, Petrol, Power assisted steering, Air conditioning, Climate Control, Electric windows, Electric mirrors, Electric roof, Remote locking, Radio/CD, Trip computer, Heated seats, Sports seats, Alloy wheels, ABS, Driver airbag, Passenger airbag. Insurance Group:17, IMMACULATE CONDITION TT. 85K FULL AUDI SERVICING LAST SERVICED SEPT 09. NEW TYRES ALL ROUND. FIRST TO SEE WILL LOVE AND BUY! £9,000 SOLD - SOLD - SOLD Deutsche Marque Cars Tel: 07866 548643
---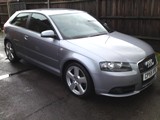 AUDI A3 2.0 T FSI QUATTRO S LINE, 2005 55 Reg, 53,000 miles, Metallic Avus Silver, MOT-09-2010. Full Service History, 3 Doors, Manual, Hatchback, Petrol, Half leather sports seats, Power assisted steering, Air conditioning, Climate Control, Electric windows, Electric mirrors, Heated door mirrors, Radio/CD Multichanger, Remote central locking, 2 Keys, 18" Alloy wheels, Trip computer, Front armrest, Colour coding - Body, Foglights, Spoiler, Multi Airbags, Traction control, ABS, Isofix child seat anchor points, Rear headrests. Insurance Group:15 £11,500 SOLD - SOLD - SOLD Deutsche Marque Cars Tel: 07866 548643
---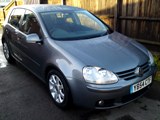 VOLKSWAGEN GOLF 2.0 GT TDI 140BHP, 2005 54 Reg, 97,000 miles, 5 Doors, Manual, Hatchback, Diesel, Metallic Grey, 1 Owner. Full Service History, Power assisted steering, Air conditioning, Climate Control, Electric windows, Electric mirrors, Radio/CD, Remote locking, 2 Keys, Auto headlights, Sports seats, Trip computer, Alloy wheels, ABS, Traction control, Multi Airbags, Rear headrests, Foglights. Insurance Group:13, EXCELLENT CONDITION GOLF GT TDI 2.0PD 140 BHP. ONE OWNER FROM NEW. CAMBELT CHANGED. FULL SERVICE RECORDS. JUST HAD MAJOR SERVICE AT VW £6,500 SOLD - SOLD - SOLD Deutsche Marque Cars Tel: 07866 548643
---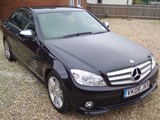 MERCEDES-BENZ C200K Sport, 2008 08 Reg, 18,000 miles, 4 Doors, Manual, Saloon, Petrol, Metallic Blue, 1 Owner. Full Service History, Half leather sports seats, Power assisted steering, Air conditioning, Climate Control, Radio/CD, Electric windows, Multi function steering wheel, Electric mirrors, Remote locking, 2 Keys, Auto headlights, Foglights, Auto wipers, Alloy wheels, ABS. Insurance Group:14, Bluetooth, 17 inch AMG Sport wheels, AMG Styling incorporating a front apron, rear apron, side skirts and large integrated merc badge in the front grille. Stunning example of the best looking, sports saloon on the road right now! WAS £20,500 NOW £20,000 SOLD - SOLD - SOLD Deutsche Marque Cars Tel: 07866 548643
---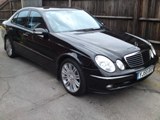 MERCEDES-BENZ E320 CDI Sport Tip, 2005 55 Reg, 90,000 miles, Metallic Black, 4 Doors, Automatic, Saloon, Diesel, 1 Owner. Full Service History, Power assisted steering, Air conditioning, Climate Control, Leather seats, Electric windows, Electric mirrors, Remote central locking, Radio/CD, Auto headlights, Auto wipers, Cruise control, Trip computer, Foglights, ABS, Alloy wheels. Insurance Group:17, Multi Airbags, 1 Owner, full service history, black with full black leather, E320 CDI 7G auto trip. Excellent condition, 18 inch sport wheels. WAS £12,500 NOW £12,000 SOLD - SOLD - SOLD Deutsche Marque Cars Tel: 07866 548643
---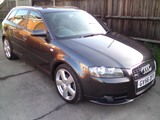 AUDI A3 2.0 TDI S LINE SPORTBACK 2006 56 Reg, 98,000 miles, Metallic Lava Grey, 5 Doors, Manual, Hatchback, Diesel, 1 Owner. FSH, Half leather sports seats, Rear parking sensors, Brushed alloy roof rails, Climate Control, Air con, Radio/CD Multichanger, 4X Electric windows, Electric heated mirrors, Remote locking 2x keys, Spoiler, Trip computer, Front fog lights, 3x3 point rear seat belts, Isofix, Multi airbags, Rear headrests, ABS, Traction. Insurance Group:11, 18inch Alloy wheels with NEW firestone tyres all round. 1 lady owner from new. Full and complete service history £10,499 SOLD - SOLD - SOLD Deutsche Marque Cars Tel: 07866 548643
---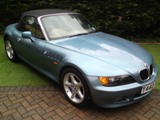 BMW Z3 1.9, 1999 T Reg, 47,000 miles, 2 Doors, Manual, Petrol, Metallic Blue, MOT-05-2010. Power assisted steering, Full Service History, Electric windows, Electric mirrors, Central locking, Alloy wheels, ABS, Colour coding - Body, Foglights, Radio/CD, Trip computer, Leather seats, Metallic paintwork, Traction control. Insurance Group:14. A PX CAR IN EXCELLENT CONDITION. £4,999 SOLD - SOLD - SOLD Deutsche Marque Cars Tel: 07866 548643
---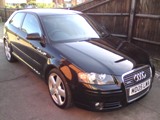 AUDI A3 2.0 TDI QUATTRO S LINE, 2005 05 Reg, 116,000 miles, Black, 3 Doors, Manual, Hatchback, Diesel, 1 Owner. Full Service History, Heated half leather sports seats, Air con/ Climate Control, Radio/CD, Electric windows, Electric heated mirrors, Remote locking, Trip computer, 18 inch Alloy wheels, Foglights, Traction, ABS, Rear headrests, 3x3 point rear seat belts, Multi airbags. Insurance Group:11, RARE A3 S LINE. HEATED HALF LEATHER SPORTS SEATS AND THE SUPERB BOSE HIFI SYSTEM. HIGH MOTORWAY MILES, ONE COMPANY OWNER WITH FULL SERVICE HISTORY AND TWO REMOTE KEYS. £8,999 SOLD - SOLD - SOLD Deutsche Marque Cars Tel: 07866 548643
---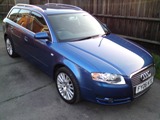 AUDI A4 1.9 TDI AVANT 2006 06 Reg, 92,000 miles, TDV, Metallic Mauritius, 5 Doors, Manual, Estate, Diesel, MOT-02-2010, 1 Owner. Full Service History, Air conditioning, Climate Control, Power assisted steering, Radio/CD, Remote central locking, Front + Rear electric windows, Electric, Heated door mirrors, Cruise control, 17inch Alloy wheels, ABS, Multiple airbags, Front fog lights, 3x3 point rear seat belts, Service indicator, Trip computer, Insurance Group:11, UPGRADED WHEELS. 1 OWNER. 92K FULL SERVICE HISTORY INCLUDING RECENT CAMBELT AND WATERPUMP CHANGE. JUST SERVICED, MOT'D AND TAXED! £7,999 SOLD - SOLD - SOLD Deutsche Marque Cars Tel: 07866 548643
---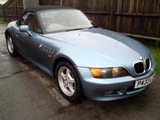 BMW Z3 1.9, 1997 P Reg, 104,000 miles, 2 Doors, Manual, Petrol, Metallic Blue. Power assisted steering, Electric windows, Electric mirrors, Central locking, Heated seats, Leather seats, Leather upholstery, Alloy wheels, ABS, Driver airbag, Headlight washers. Insurance Group:14, SERVICE HISTORY. EXCELLENT CONDITION THROUGHOUT AND A NEW MOT. PX TO CLEAR £2,999 SOLD - SOLD - SOLD Deutsche Marque Cars Tel: 07866 548643
---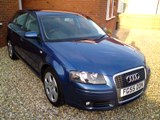 AUDI A3 2.0 TDI SPORT 5DR SPORTBACK, 2005 55 Reg, 79,000 miles, Mauritus Blue, MOT-10-2009, 1 Owner, 5 Doors, Manual, Hatchback, Diesel, 3x3 rear belts, ABS, Alloy wheels, Climate Control, Cloth seat trim, Drivers airbag, Electric heated mirrors, Front + rear electric windows, Front fog lights, Isofix child seat anchor points, PAS, Passenger airbag, Radio/CD with steering wheels controls, Rear headrests, Remote central locking, Service indicator, Front armrest, Side airbags, Sports seats, Traction control, Trip computer. Insurance Group:11, 120 POUNDS PER YEAR TAX, 50+MPG, FULL AUDI SERVICE HISTORY. £8,299 SOLD - SOLD - SOLD Deutsche Marque Cars Tel: 07866 548643
---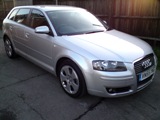 AUDI A3 2.0 TDI SPORT 5DR SPORTBACK, 2005 55 Reg, 82,000 miles Metallic Silver, MOT-10-2009, 1 Owner. PAS, Air con, Dual zone Climate Control, Electric windows, Electric mirrors, Heated door mirrors, Remote locking, Heated seats, Half leather sports seats, 3x rear belts, Radio/CD, Alloy wheels, Foglights, Rear headrests, Driver airbag, Passenger airbag, Side airbags, Immobiliser, ABS, Traction control, Computer. Ins Grp:11, HALF LEATHER HALF SUEDE HEATED SEATS + SUPERB BOSE HIFI + FOLDING MIRRORS. FULL AUDI SERVICE HISTORY INCLUDING CAMBELT RENEWAL, 120 A YEAR TAX AND 50+MPG £8,499 SOLD - SOLD - SOLD Deutsche Marque Cars Tel: 07866 548643
---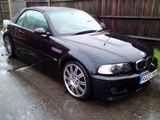 BMW M3 Convertible SMG AUTO 2002 02 Reg, 60,000 miles, Metallic CARBON BLACK with BLACK LEATHER, Power assisted steering, Air conditioning, Climate Control, Radio/CD, Electric windows, Electric mirrors, Remote locking, Heated seats, Leather seats, Electrically adjustable seats, Front armrest, Park distance control, Cruise control, Multi function steering wheel, Trip computer, Headlight washers, 19" Alloys, Foglights, multi airbags, Rear headrests, Traction control, ABS. Insurance Group:20, FULL BMW SERVICE HISTORY (JUST SERVICED). STUNNING CAR! £12,999 SOLD - SOLD -SOLD Deutsche Marque Cars Tel: 07866 548643
---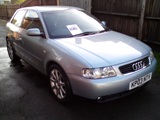 AUDI A3 1.8 T SPORT 3dr, 2003 03 Reg, 72,000 miles, Metallic ICE BLUE with BLACK half leather interior, Manual, Hatchback, Petrol, Climate Control, Air conditioning, Power assisted steering, Radio/CD, Computer, Front armrest, Electric windows, Electric mirrors, Remote locking, Sports seats, Electrically adjustable seats, Alloy wheels, Rear headrests, Driver airbag, Passenger airbag, Side airbags, ABS. Insurance Group:14, AUDI A3 1.8T SPORT IN EXCELLENT CONDITION. NEW CAMBELT KIT AND WATERPUMP JUST FITTED. AUDI SERVICED LAST AT 67K FEB 08. FIRST TO SEE AND DRIVE WILL BUY. £4,999 SOLD - SOLD - SOLD Deutsche Marque Cars Tel: 07866 548643
---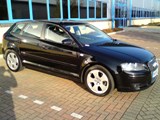 AUDI A3 2.0 TDI SPORT 5DR SPORTBACK, 2005 55 Reg, 79,000 miles, BLACK, MOT-2009, 1 Owner, 5 Doors, Manual, Hatchback, Diesel, 3x3 rear belts, ABS, Alloys, Climate Control, Cloth seat trim, Drivers airbag, Electric heated door mirrors, Front + rear elec windows, Front fog lights, Isofix child seat anchor points, PAS, Passenger airbag, Radio/CD, Rear headrests, Remote central locking, Service indicator, Front armrest, Side airbags, Heated Sports seats, Parking Sensors, Cruise control, Traction control, Trip computer. Insurance Group:11, 120 POUNDS PER YEAR TAX, 50+MPG, FULL AUDI SERVICE HISTORY. £9,250 SOLD - SOLD - SOLD Deutsche Marque Cars Tel: 07866 548643
---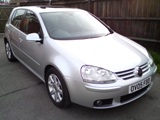 VOLKSWAGEN GOLF 2.0 GT TDI 5DR, 2005 05 Reg, 23,000 miles, Metallic Reflex Silver, Manual, Hatchback, Diesel, MOT-04-2009, 1 Owner. Full Service History, Power assisted steering, Air conditioning, Climate Control, Electric sunroof, Radio/CD, Electric windows, Electric mirrors, Remote locking, Computer, Foglights, Sports seats, Alloy wheels, Traction control, ABS, Driver airbag, Passenger airbag, Side airbags, Rear headrests. Insurance Group:13, Excellent condition, low mileage Golf GT TDI. Desirable 2.0 16v PD TDI engine which is only 120 pounds a year to tax and will do 50+mpg. £8,999 SOLD - SOLD SOLD Deutsche Marque Cars Tel: 07866 548643
---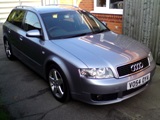 AUDI A4 AVANT 1.9 TDi 130 Sport Tip, 2004 54 Reg, 92,000 miles, AKOYA SILVER. Full Service History, 5 Doors, Automatic, Estate, Diesel, Power assisted steering, Air conditioning, Climate Control, Radio/CD, Sports seats, Electrically adjustable seats, Front armrest, Electric windows, Electric mirrors, Remote locking, Spoiler, Foglights, Rear headrests, Driver airbag, Passenger airbag, Side airbags, ABS, Traction control, Alloy wheels. Insurance Group:13, PROBABLY THE BEST LOOKING ESTATE CAR ON THE MARKET FOR THE MONEY. FULL AUDI SERVICE HISTORY. £7,999 SOLD - SOLD - SOLD Deutsche Marque Cars Tel: 07866 548643
---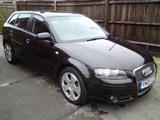 AUDI A3 2.0 TDI SPORT 5DR SPORTBACK, 2005 05 Reg, 88,000 miles, Met Black, MOT-05-2009, 1 Owner, 5 Doors, Manual, Hatchback, Diesel, 3x3 point rear seat belts, ABS, Alloy wheels, Climate Control, Cloth seat trim, Drivers airbag, Electric heated door mirrors, Front + rear electric windows, Front fog lights, Isofix child seat anchor points, PAS, Passenger airbag, Radio/CD, Rear headrests, Remote central locking, Service indicator, Front armrest, Side airbags, Sports seats, Traction control, Trip computer. Insurance Group:11, 120 POUNDS PER YEAR TAX, 50+MPG, FULL AUDI SERVICE HISTORY. £8,999 SOLD - SOLD - SOLD Deutsche Marque Cars Tel: 07866 548643
---
BMW 3 SERIES 320D SPORT 5DR [6], 2005 05 Reg, 48,000 miles, Metallic Black, 5 Doors, Manual, Estate, Diesel, 1 Owner. Full Service History, Half leather sports seats, Power assisted steering, Air conditioning, Climate Control, Radio/CD, Multi function steering wheel, Electric windows, Electric mirrors, Remote locking, Rear headrests, Foglights, Park distance control, ABS, Traction control, Driver airbag, Passenger airbag, Side airbags. Insurance Group:14. Black, half alcantara leather seats and 19" alloy wheels finish this immaculately presented, stunning car off perfectly. £10,999 SOLD - SOLD - SOLD Deutsche Marque Cars Tel: 07866 548643
---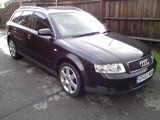 AUDI A4 2.5 TDI 163 SE Auto 2002 02 Reg, 100,000 miles, Metallic Black, 5 Doors, Automatic, Estate, Diesel, 2 Owners. Full Service History, Power assisted steering, Air conditioning, Climate Control, Radio/CD, Cruise control, Electric windows, Electric mirrors, Remote locking, FULL Black Leather seats, Sports seats, Front armrest, Foglights, Computer, Driver airbag, Passenger airbag, Side airbags, Rear headrests, Alloy wheels, ABS. Insurance Group:15. £5,999 SOLD - SOLD - SOLD Deutsche Marque Cars Tel: 07866 548643
---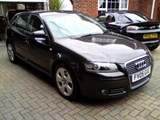 AUDI A3 2.0 TDI SPORT 5DR Sportback, 2005 05 Reg, 115,000 miles, Metallic Grey, 1 Owner. Full Service History, 5 Doors, Manual, Hatchback, Diesel, Power assisted steering, Air conditioning, Climate Control, Radio/CD, Electric windows, Electric mirrors, Remote locking, Sports seats, Alloy wheels, Driver airbag, Passenger airbag, Side airbags, ABS, Rear headrests, 3x3 point rear seat belts. Insurance Group:11. £6,999 SOLD - SOLD - SOLD Deutsche Marque Cars Tel: 07866 548643
---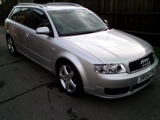 AUDI A4 1.9 TDI 130 Sport Avant [6], 2004 04 Reg, 109,000 miles, Metallic Silver. Full Service History, sports seats, 5 Doors, Manual, Estate, Diesel, Roof bars, ABS, Adjustable seats, Adjustable steering column/wheel, Air conditioning, Alloy wheels, Anti theft system, Central locking, Climate Control, Colour coding - Body, Computer, Driver airbag, Electric mirrors, Electric windows, Foglights, Folding rear seats, Immobiliser, Passenger airbag, Power assisted steering, Rear armrest, Remote locking, Side airbags, Radio/CD, Traction control. Insurance Group:13, Stunning looking car! £8,495 SOLD - SOLD - SOLD Deutsche Marque Cars Tel: 07866 548643
---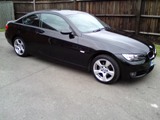 BMW 3 SERIES 320I SE, 2007 07 Reg, 15,000 miles, 2 Doors, Manual, Coupe, Petrol, Black, 1 Owner. Alloy wheels, Cloth upholstery, Computer, Cruise control, Drivers airbag, Remote locking, Electric mirrors, Full Service History, Electric windows, Service indicator, PAS, Radio/CD, Multi function steering wheel, Electrically adjustable drivers seat, Park distance control, Side airbags, Traction control, Air conditioning, Climate Control, Sports seats, Isofix child seats, Electrically adjustable passenger seat, Foglights, Passenger airbag, Front armrest, Xenon headlights, AUX input. Insurance Group:15. £19,999 SOLD - SOLD - SOLD Deutsche Marque Cars Tel: 07866 548643
---
SAAB 9-3 1.9TID VECTOR 4DR 120, 2005 05 Reg, 79,000 miles, Metallic Silver, 1 Owner. Full Service History, 4 Doors, Manual, Saloon, Diesel, Climate Control, Power assisted steering, Electric windows, Electric mirrors, Traction control, Multi function steering wheel, ABS, Cruise control, Driver airbag, Alloy wheels, Passenger airbag, Radio/CD, Folding rear seats, Rear armrest, Front armrest, 3x3 point rear seat belts, Remote locking, Sports seats. Insurance Group:12, HALF LEATHER SEATS. EXCELLENT CONDITION THROUGHOUT. FULL SERVICE HISTORY INCLUDES CAMBELT REPLACEMENT ON SCHEDULE. £5,799 SOLD - SOLD - SOLD Deutsche Marque Cars Tel: 07866 548643
---
AUDI A3 2.0 TDi 5dr 140 SPORTBACK, 2005 55 Reg, 115,000 miles, Liquid Blue Metallic, 1 Owner, 5 Doors, Manual, Hatchback, Diesel, ABS, Adjustable seats, Adjustable steering column/wheel, Alloy wheels, Driver airbag, Electric mirrors, Electric windows, Folding rear seats, Immobiliser, Passenger airbag, Power assisted steering, Remote locking, Side airbags, Rear headrests, Traction control, Air conditioning, Climate Control, Radio/CD, Full Service History INCLUDING CAMBELT AND TENSIONER REPLACEMENT. Insurance Group:11. EXCELLENT CONDITION. £6,999 SOLD - SOLD - SOLD Deutsche Marque Cars Tel: 07866 548643
---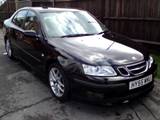 SAAB 9-3 2.0T AERO 4DR 210 bhp BI XENONS FSH, 2005 55 Reg, 72,000 miles, Black, 1 Owner, Full Service History, 4 Doors, Manual, Saloon, Petrol, Power assisted steering, Air conditioning, Climate Control, Electric windows, Electric door mirrors, Radio/CD Multichanger, Foglights, Electric mirrors, Front armrest, Remote locking, Cruise control, Sports seats, Leather seats, Lumbar support, Spoiler, Alloy wheels, Driver airbag, Passenger airbag, Side airbags, 3x3 point rear seat belts, Rear headrests, ABS. Insurance Group:16, BEAUTIFUL, ONE OWNER, FULLY SERVICED SAAB 9-3 AERO 210BHP CAR. £7,999 SOLD - SOLD - SOLD Deutsche Marque Cars Tel: 07866 548643
---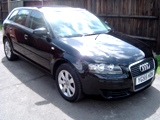 AUDI A3 2.0 TDI SE SPORTBACK 5DR 140 2005 55 Reg, 90,000 miles, Black. Full Audi Service History, 5 Doors, Manual, Hatchback, Diesel, Power assisted steering, Cruise control, Front armrest, Climate Control, Air con, AUDI SYMPHONY HIFI Radio/CD Multichanger, Electric windows, Electric Heated mirrors, Remote locking, Leather trim Steering wheel, Gear knob and Handbrake, Sports seats, Alloy wheels, 6 airbags, ABS, Traction control, 3x3 rear seat belts, Rear headrests. Insurance Group:11, FULL AUDI SERVICE HISTORY INCLUDING CAMBELT AND TENSIONER RENEWAL. £8,999 SOLD - SOLD - SOLD Deutsche Marque Cars Tel: 07866 548643
---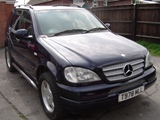 MERCEDES-BENZ M CLASS ML320 5dr Auto, 1999 T Reg, 74,000 miles, Met Blue, Petrol, MOT-04-2009. ABS, Air con, Alloys, Central locking, Cruise, Driver airbag, Electric mirrors, Electric windows, Foglights, Front armrest, Immobiliser, Passenger airbag, Power assisted steering, Side airbags, Rear headrests, Traction, Roof bars, Colour coding - Body, Electrically adj seats, grey Leather seats, grey Leather upholstery, Locking wheel nuts, Lumbar support, Remote locking, Radio/Cass, Full Service History. Insurance Group:16, AMG STYLE 18INCH WHEELS. STAINLESS RUNNING BOARDS. £5,495 SOLD - SOLD - SOLD Deutsche Marque Cars Tel: 07866 548643
---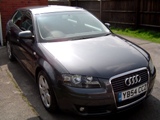 AUDI A3 2.0 TDi Sport 5dr SPORTBACK, 2005 54 Reg, 90,000 miles, Metallic Dolphin Grey, 1 Owner. Full Audi Service History, 5 Doors, Manual, Hatchback, Diesel, ABS, Adjustable seats, Adjustable steering column/wheel, Alloy wheels, Climate Control, Computer, Driver airbag, Electric mirrors, Electric windows, Foglights, Folding rear seats, Immobiliser, Passenger airbag, Power assisted steering, Remote locking, Side airbags, Radio/CD, Rear headrests, Sports seats, Traction control, Air conditioning, Front armrest. Insurance Group:11. £9,995 SOLD - SOLD - SOLD Deutsche Marque Cars Tel: 07866 548643
---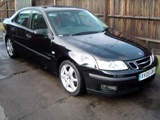 SAAB 9-3 1.9TID VECTOR SPORT [150], 4 Doors, 2005 05 Reg, 105,000 miles Manual, Saloon, Diesel, Fully loaded, Half Heated leather, Climate, Multi-CD, 17inch Wheels, 6 Speed, Black, Full Saab Service History with one owner and in Excellent condition. MOT march 09 £5,995 SOLD - SOLD - SOLD Deutsche Marque Cars Tel: 07866 548643
---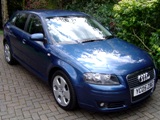 AUDI A3 2.0 TDi Sport 5dr SPORTBACK, 2005 05 Reg, 98,000 miles, Metallic Mauritus Blue, 1 Owner. Full Audi Service History, 5 Doors, Manual, Hatchback, Diesel, ABS, Adjustable seats, Adjustable steering column/wheel, Alloy wheels, Climate Control, Computer, Driver airbag, Electric mirrors, Electric windows, Foglights, Folding rear seats, Immobiliser, Passenger airbag, Power assisted steering, Remote locking, Side airbags, Radio/CD, Rear headrests, Sports seats, Traction control, Air conditioning, Front armrest. Insurance Group:11. £9,495 SOLD - SOLD - SOLD Deutsche Marque Cars Tel: 07866 548643
---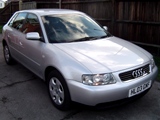 AUDI A3 1.9 TDi SE 5dr, 2003 03 Reg, 60,000 miles, Metallic SILVER, 5 Doors, Manual, Hatchback, Diesel, MOT-04-2009. Full Service History, Radio/CD, Climate Control, ABS, Adjustable seats, Adjustable steering column/wheel, Alloy wheels, Computer, Driver airbag, Electric mirrors, Electric windows, Foglights, Front armrest, Folding rear seats, Immobiliser, Passenger airbag, Power assisted steering, Remote locking, Side airbags, Rear headrests, Traction control, Air conditioning. Insurance Group 12. £6,995 SOLD - SOLD - SOLD Tel: 07866 548643
---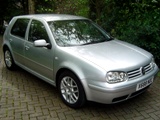 VOLKSWAGEN Golf 2.3 V5, 5 Doors, Auto, 2000 X Reg, 74,000 miles, Silver, Hatchback, Petrol, ABS, Adjustable seats, Adjustable steering column/wheel, Air conditioning, Alloy wheels, Central locking, Computer, Driver airbag, Electric mirrors, Electric windows, Foglights, Folding rear seats, Immobiliser, Passenger airbag, Power assisted steering, Side airbags, Radio/CD Multichanger, Rear headrests, Sports seats, Traction control, Full Service History. Insurance Group:15 £4,495 SOLD - SOLD - SOLD Deutsche Marque Cars Tel: 07866 548643
---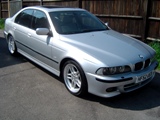 BMW 5 SERIES 540I SPORT 4DR Automatic, 2002 52 Reg, 111,000 miles, Metallic Silver, 2 Owners, Saloon, Petrol, ABS, Air conditioning, Alarm, Alloy wheels, Audio remote control, Body coloured bumpers, Cruise control, Drivers airbag, Electric door mirrors, Electrically adjustable drivers seat, Electrically adjustable passenger seat, Front armrest, Full Service History, Spoiler, TV, Telephone, Multi function steering wheel, Navigation system, Front electric windows, Front fog lights, Headlight washers, Leather seats, Leather upholstery, Electric windows, Heated door mirrors, Height adjustable drivers seat, Immobiliser, PAS, Passenger airbag, Radio/Cassette, CD Multichanger, Rear armrest, Rear electric windows, Rear headrests, Driver airbag, Electric sunroof, Computer, Remote central locking, Reverse parking aid, Service indicator, Side airbags, Sports seats, Steering wheel rake adjustment, Steering wheel reach adjustment, Traction control, Trip computer. Insurance Group:19A, FULL BMW SERVICE HISTORY. BIG SCREEN PROFESSIONAL SAT NAV FULL GREY LEATHER. FULLY LOADED CAR IN EXCEPTIONAL CONDITION. HPI CLEAR. £6295 SOLD - SOLD - SOLD Deutsche Marque Cars Tel: 07866 548643
---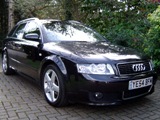 AUDI A4 1.9 TDI 130 Sport Avant [6], 2004 54 Reg, 94,000 miles, Metallic Black. Full Service History, Full leather sports seats, 5 Doors, Manual, Estate, Diesel, Roof bars, ABS, Adjustable seats, Adjustable steering column/wheel, Air conditioning, Alloy wheels, Anti theft system, Central locking, Climate Control, Colour coding - Body, Computer, Driver airbag, Electric mirrors, Electric windows, Foglights, Folding rear seats, Leather upholstery, Immobiliser, Passenger airbag, Power assisted steering, Rear armrest, Remote locking, Side airbags, Radio/CD, Traction control. Insurance Group:13, Stunning looking car! £9,995 SOLD - SOLD - SOLD Deutsche Marque Cars Tel: 07866 548643
---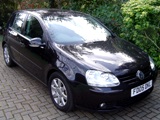 VOLKSWAGEN Golf 2.0 GT TDi, 2005 05 Reg, 51,000 miles, Black. 5 Doors, Manual, Hatchback, Diesel, ABS, Adjustable seats, Adjustable steering column/wheel, Air conditioning, Alloy wheels, Central locking, Climate Control, Computer, Driver airbag, Electric mirrors, Electric windows, Electric Sunroof, Foglights, Folding rear seats, Lumbar support, Immobiliser, Passenger airbag, Power assisted steering, Remote locking, Side airbags, Radio/CD, Rear headrests, Sports seats, Heated Seats, Traction control, 1 Owner, Auto Headlights, Auto Wipers, Full VW Service History. Insurance Group:13 £9,995 SOLD - SOLD - SOLD Deutsch Marque Cars Tel: 07866 548643
---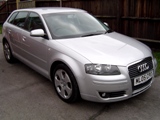 AUDI A3 2.0 TDi Sport 5dr SPORTBACK, 2005 05 Reg, 68,000 miles, Metallic SILVER. 5 Doors, Manual, Hatchback, Diesel, ABS, Adjustable seats, Adjustable steering column/wheel, Alloy wheels, Climate Control, Computer, Driver airbag, Electric mirrors, Electric windows, Foglights, Folding rear seats, Immobiliser, Passenger airbag, Power assisted steering, Remote locking, Side airbags, Radio/CD, Rear headrests, Sports seats, Traction control, Half leather sports seats, Air conditioning, CD Multichanger, Front armrest, Park distance control, Full Service History. Insurance Group:11, 1 owner, FASH, Quality BOSE Sound pack, Comes to you with a belt change and 12mths MOT. Perfect! £11,995 SOLD - SOLD - SOLD Deutsch Marque Cars Tel: 07866 548643
---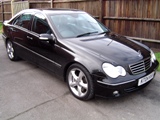 MERCEDES-BENZ C CLASS C270 CDI Avantgarde SE 4dr Auto F/LIFT MOD SAT NAV, 2004 04 Reg, 51,000 miles, Metallic Black, 4 Doors, Automatic, Saloon, Diesel, MOT-02-2009. Auto Headlights, Auto Wipers, Xenon Headlights, Full leather sports seats, ABS, Adjustable steering column/wheel, Air conditioning, Alloy wheels, Anti theft system, Central locking, Climate Control, Colour coding - Body, Computer, Cruise control, Driver airbag, Electric mirrors, Electric windows, Foglights, Front armrest, Electrically adjustable seats, Headlight washers, Heated seats, Leather upholstery, Locking wheel nuts, Lumbar support, Immobiliser, Multi function steering wheel, Navigation system, Park distance control, Passenger airbag, Power assisted steering, Rear armrest, Remote locking, Side airbags, Radio/CD Multichanger, Rear headrests, Traction control, Insurance Group:15, FACE LIFT MODEL. IMMACULATE. MET BLACK WITH FULL BLACK LEATHER. FULL MERC HISTORY. £12,995 SOLD - SOLD - SOLD Deutsch Marque Cars Tel: 07866 548643
---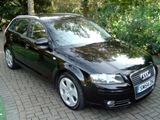 AUDI A3 SPORTBACK 2.0 TDi Sport, 2005 54 Reg, 113,000 miles, Black, 1 Company Owner, Full Service History, 5 Doors, Manual, Hatchback, Diesel, ABS, Adjustable seats, Adjustable steering column/wheel, Alloy wheels, Climate Control, Computer, Driver airbag, Electric mirrors, Electric windows, Foglights, Folding rear seats, Immobiliser, Passenger airbag, Power assisted steering, Remote locking, Side airbags, Radio/CD, Rear headrests, Sports seats, Traction control, Auto Headlights, Auto Wipers, Half leather sports seats, Air conditioning, Cruise control, Front armrest, Multi function steering wheel. Half leather half suede seats. Beautiful condition, high spec Sportback - Fantastic value. £9,995 SOLD - SOLD - SOLD Deutsch Marque Cars Tel: 07866 548643
---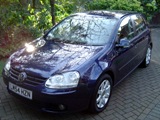 VOLKSWAGEN Golf 2.0 GT TDi, 2004 54 Reg, 73,000 miles, Metallic Shadow Blue. 5 Doors, Manual, Hatchback, Diesel, ABS, Adjustable seats, Adjustable steering column/wheel, Air conditioning, Alloy wheels, Central locking, Climate Control, Computer, Driver airbag, Electric mirrors, Electric windows, Foglights, Folding rear seats, Lumbar support, Immobiliser, Passenger airbag, Power assisted steering, Remote locking, Side airbags, Radio/CD, Rear headrests, Sports seats, Traction control, 1 Company Owner, Auto Headlights, Auto Wipers, Full Service History, CD Multichanger, Front armrest. Insurance Group:13 £8,295 SOLD - SOLD - SOLD Deutsch Marque Cars Tel: 07866 548643
---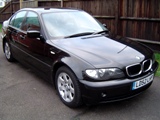 BMW 3 SERIES 320d SE 4dr 150 BHP, 2002 52 Reg, 113,000 miles, Metallic Black, 4 Doors, Manual, Saloon, Diesel, MOT-10-2008. Full Service History, Motorway Miles, Air conditioning, Climate Control, Cruise control, Remote locking, Central locking, Power assisted steering, Electric windows, Electric mirrors, Front armrest, Rear headrests, Multi function steering wheel, Radio/Cassette, CD Multichanger, Computer, Park distance control, Immobiliser, Alloy wheels, Foglights, ABS, Traction control, Driver airbag, Passenger airbag, Side airbags. Insurance Group:13, FULL BMW SERVICE HISTORY. 9K TILL NEXT SERVICE (OIL SERVICE). £6,495 SOLD - SOLD - SOLD Deutsch Marque Cars Tel: 07866 548643
---
For more information about any of the cars shown above get in touch.
07866 548643
. Alternatively, you can email
info@deutschemarquecars.co.uk
.
We are open 7 days a week by appointment only and are happy to meet in evenings.
Deutsch Marque Cars are located in Hedge End, near Southampton, 1 mile from Junction 7 M27. Map.
Disclaimer: Whilst every effort has been made to ensure the accuracy of information on this site, some errors may occur. It is important that you do not rely solely on this information but check with Deutsche Marque Cars about any terms you feel will affect your decision to view or purchase a car. No liability is acceptable for loss or damage resulting from errors or omission on this web site.